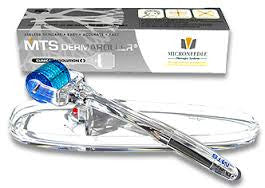 MTS Original Dermaroller Home Use Only
The common goal of most skin treatment modalities is the reduction of wrinkles and scars and depressions of the skin. MTS Roller™ is a low-cost/high results skin treatment alternative for ablatives like laser resurfacing, derma/microbrasion, and chemical peeling.
MTS Roller™ uses 200 very fine needles to pierce the epidermis thereby stimulating collagen formation. The resulting 'micro-channel effect' also helps to infuse vitamin creams, serums, and other topical applications thereby increasing their effectiveness.
MTS Roller™ are the original and only MTS roller for sale in the UK. Manufactured in the USA, they carry a EU CE Mark for authenticity and are packaged sterile for safety
Check out this instructional video courtesy of our friends at Verve
---
We Also Recommend
---